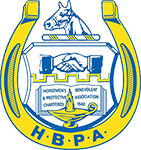 Posted: 5/23/16
Horse racing, by its very nature, is a game of chance, where the best horse may not always win due to a slow break from the gate or traffic on the turn. The sometimes unpredictable outcome of a race is part of what makes the sport popular. Handicappers and horsemen know almost anything can happen on the track, but outside of the race, unpredictable events can be devastating to owners and trainers of racehorses.
Such was the case with a tornado that hit the backside of Will Rogers Downs in Oklahoma earlier this year and the restrictions at tracks in Iowa and Nebraska due to an outbreak of Equine herpesvirus 1 (EHV-1) that originated in New Mexico. Luckily for horsemen in Oklahoma, Iowa and Nebraska, the National Horsemen's Benevolent and Protective Association (HBPA) and its state affiliates stood ready to assist those affected.
At Fonner Park in Nebraska and Prairie Meadows in Iowa, numerous horsemen were impacted by restrictions on horses shipping in and out of those facilities as a precaution to prevent the potential spread of EHV-1. While those restrictions worked well to protect horses at both tracks, some horsemen endured hardships. Both the Nebraska HBPA and Iowa HBPA, together with the National HBPA, provided financial assistance to member horsemen to help lessen the impact of these unexpected events. Similar assistance was provided to horsemen affected by the tornado in Oklahoma.
"We are very happy that Fonner Park and Prairie Meadows now have the 'all clear' and things are back to normal, but those were some tough weeks for horsemen," said Eric Hamelback, CEO of the National HBPA. "The motto of the HBPA has always been 'Horsemen Helping Horsemen,' and this was just another example of that and one of the benefits of HBPA membership. Even though horsemen compete against each other every day on the track, there is also a sense of family among horsemen around North America, and we are glad to be able to provide assistance to horsemen in times of need like this."