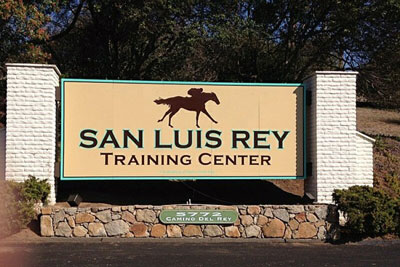 In times of need, horsemen have always reached out to help their fellow horsemen. This is one of those times, as you have probably seen the devastation caused by the wildfires in California, and in particular what transpired at the San Luis Rey Training Center where many horses were saved through the heroic efforts of horsemen and others who risked their lives to help. Sadly, approximately 25 horses are known to have perished, and many others are injured or displaced. Now is the time for horsemen to pitch in and help those affected.
The most critical need right now is money, rather than donations of tack, feed, bedding, etc. Donated money can be used to buy those needed supplies more efficiently and faster than trying to ship supplies to those affected. So, the National HBPA is asking all horsemen to please consider making a monetary donation to a GoFundMe account set up by The Stronach Group, Santa Anita Park and Del Mar. Any amount helps, and 100% of the donations will go directly to those affected by the Lilac Fire.
"The National HBPA stands with all the horsemen impacted by these fires, and we salute everyone who has offered to help," said Eric Hamelback, CEO of the National HBPA. "The horses and horsemen in California need our help now and in the coming weeks, so please give what you can to support them.
"The National HBPA Foundation will also be stepping up to help, and horsemen can donate to that as well," Hamelback added.
To make a donation to the GoFundMe account, go to https://www.gofundme.com/thoroughbredcare, or to donate to the National HBPA Foundation, go to https://nationalhbpa.com/donate/.