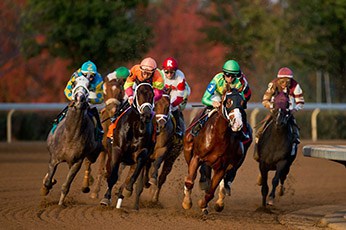 From Keeneland news release
Posted: 6/20/16
Keeneland will offer 17 graded stakes worth $5.275 million during its 2016 Fall Meet, to be held Oct. 7-29, which kicks off with nine graded stakes presented as part of the track's prestigious Fall Stars Weekend. Eight Fall Meet stakes are Breeders' Cup Challenge "Win and You're In" events with winners automatically qualifying for a berth in the Breeders' Cup World Championships at Santa Anita on Nov. 4-5.
The 17-day meet, which offers one of North America's richest purse programs, marks the 80th anniversary of racing at Keeneland, which opened Oct. 15, 1936, for its inaugural nine-day season.
Two stakes, the Stoll Keenon Ogden Phoenix and Buffalo Trace Franklin County, were upgraded for 2016 by the American Graded Stakes Committee of the Thoroughbred Owners and Breeders Association. The Stoll Keenon Ogden Phoenix was upgraded from Grade 3 to Grade 2. The previous two winners of the Stoll Keenon Ogden Phoenix – Work All Week in 2014 and Runhappy in 2015 – went on to win the Breeders' Cup Sprint (G1). The Buffalo Trace Franklin County was upgraded from a listed stakes to a Grade 3 event.
"The Fall Meet is the hallmark of quality, beginning with Fall Stars Weekend that features five of the season's six Grade 1 races," Keeneland Racing Secretary Ben Huffman said. "Many stars bound for the Breeders' Cup will compete here, prepping in a Breeders' Cup Challenge race or another of the Fall Meet's lucrative stakes, making Keeneland a key racing destination."
Since its inception in 1984, the winners of 43 Breeders' Cup races made their final start before the World Championships during Keeneland's Fall Meet. The track successfully hosted the Breeders' Cup for the first time in October 2015.
"The Breeders' Cup sparked attention and showcased Keeneland to a global audience," Keeneland President and CEO Bill Thomason said. "The momentum generated by that championship event continues to positively impact our business, contributing to strong gains during our recent Spring Meet and attracting horsemen and visitors from all corners of the world."
Keeneland's signature Fall Stars Weekend, on Oct. 7-9, will be highlighted by nine graded stakes worth a total of $3.7 million. Five of those stakes are Grade 1 events and include the opening-day $400,000 Darley Alcibiades (G1), for 2-year-old fillies at 1 1/16 miles. The Saturday, Oct. 8 card is anchored by the $1 million Shadwell Turf Mile (G1), for 3-year-olds and up; $500,000 Claiborne Breeders' Futurity (G1), for 2-year-olds at 1 1/16 miles; and $400,000 First Lady (G1), for fillies and mares, 3 years old and up at a mile on turf. Headlining the Oct. 9 races is the $500,000 Juddmonte Spinster (G1), for fillies and mares, 3 years old and up at 1 1/8 miles.
A sixth Grade 1 stakes, the internationally prominent $500,000 Queen Elizabeth II Challenge Cup Presented by Lane's End for 3-year-old fillies at 1 1/8 miles on the turf is scheduled for Oct. 15.
Seven Breeders' Cup Challenge stakes will be run Fall Stars Weekend: Darley Alcibiades (a Challenge race for the Juvenile Fillies-G1) and Stoll Keenon Ogden Phoenix (Sprint-G1) on Oct. 7; Shadwell Turf Mile (Mile-G1), Claiborne Breeders' Futurity (Sentient Jet Juvenile-G1) and Thoroughbred Club of America (G3) (Filly and Mare Sprint-G1) on Oct. 8; and Juddmonte Spinster (Distaff-G1) and Dixiana Bourbon (G3) (Juvenile Turf-G1) on Oct. 9.
The eighth Breeders' Cup Challenge race is the JPMorgan Chase Jessamine (G3) on Oct. 12, which awards the winner a berth in the Breeders' Cup Juvenile Fillies Turf (G1).
This fall, the $200,000 Hagyard Fayette (G2) for 3-year-olds and up at 1 1/8 miles, returns to its traditional closing-day position on the stakes schedule. In 2015, the Hagyard Fayette was featured on Prelude to the Cup Day, Oct. 29, in celebration of the Breeders' Cup at Keeneland.
For more information, go to www.keeneland.com.