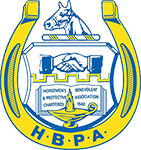 The National HBPA board met Saturday, March 11, at the South Point Hotel & Casino at the conclusion of the annual convention in Las Vegas, and following are the results of the Executive Committee elections:
Joe Davis, president of the Indiana HBPA, was elected as National Officer, Central Region Vice President, fulfilling the term of the late Tom Metzen Sr.
Also: Colorado HBPA president Kent Bamford and Virginia HBPA president David Ross
Re-elected: Nebraska HBPA president Barry Lake and Washington HBPA president Patrick LePley
Alternates: Finger Lakes president David Brown and Mountaineer HBPA president Jami Poole
National HBPA CEO Eric Hamelback on the convention: "It was a wonderful convention. We had excellent feedback on the panels, excellent feedback on the presentations we had. The venue at horse-friendly South Point was very good. All and all, I think people really saw this as what I hoped it to be: an educational opportunity for all our horsemen to learn about various topics and different aspects and planning for the future."
On going from two conventions a year to one: "I do think that works. It's in essence one extra day. But we feel it's worthwhile. Having one convention really allows us to focus and bring in top-quality speakers, panelists and presenters and give them plenty of time to plan in advance. I think for the most part, the full board approves of going to one convention. We feel like it was able to increase attendance. There are many affiliates that can only attend one a year because of their racing jurisdiction. This allows them to focus their efforts and plan to attend with as many board members as possible."
Twenty-five of the NHBPA's 32 affiliates throughout the United States and Canada were represented at the convention.
Rich Halvey, a professional handicapper and turf writer, won the handicapping tournament sponsored by Xpressbet.com in conjunction with the National HBPA and the NTRA. Halvey earned a berth in the 2018 DRF/NTRA National Handicapping Championship in Las Vegas at Treasure Island next January.
Coverage of the panels and presentations held March 8-10 was sent out to the national media and is posted on nationalhbpa.com. A recap will also appear in the spring issue of The Horsemen's Journal.