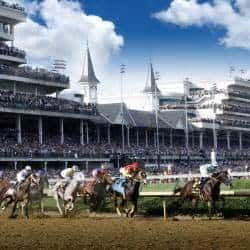 Please make arrangements to join us at the Crowne Plaza Louisville Airport on June 29th & 30th for the upcoming 2017 summer Executive Committee meeting.
A full meeting agenda will be posted on our website and emailed closer to June.  In the meantime, please note the following timeline:
Thursday, June 29th:
1:00 pm               Welcome/ Call to Order
5:00 pm               Conclusion for the first day of meeting
5:30 pm               Night at Churchill Downs
Races start at 5:00 pm
Dinner will be in the Matt Winn room sponsored by Kentucky HBPA
Friday, June 30th:
9:00 am                Reconvene for second day of meeting
12:30 pm             Conclusion of meeting
On own:               Races start at 6:00 pm at Churchill Downs (Downs After Dark), passes are limited.
To book your room, please use the NHBPA discount with the hotel at: https://aws.passkey.com/e/48999172?utm_source=2812&utm_medium=email&utm_campaign=273177700
Room rates do apply for Wednesday, June 28th through Saturday, July 1st and must be made by Sunday, May 28, 2017. Upon check-in, you will receive breakfast vouchers for the mornings of the 29th & 30th. Complimentary 24-hour airport shuttle can be arranged.
Meeting hotel information:
Crowne Plaza Louisville Airport
830 Phillips Lane
Louisville, Kentucky 40209
800.633.8723
www.cplouisville.com