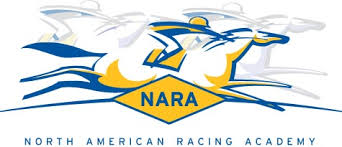 Attention All Horsemen…
The North American Racing Academy (Barn 30) is now looking for one or more new Thoroughbred racehorses to adopt for our hands-on teaching classes.
If you are looking to re-home one of your horses, we are interested in horses with – but not limited to – the following preferred qualities:
• Gelding preferreds. (w/ or w/out papers)
• Gate Approved. Has raced or been gate approved preferred.
• Training sound. Breathing problems are acceptable, but horses must be able to withstand a regular training schedule with 1 – 1-1/2 mile gallops and up to ½ mile easy breezes.
• Reasonably well-mannered (i.e. doesn't flip over)
• Able to Turn Out. Can be turned out with others.
We can arrange to bring candidate horses to our barn for a one week trial period during which we will have our vet do a complete physical examination. If the horse meets our needs we will complete an adoption contract with donors. Successfully adopted horses CAN be treated as a tax deductible donation by the donor owner.
If interested, please come by Barn 30 during training hours or email us directly at:
Remi Bellocq, Exec. Dir. NARA
remi.bellocq@kctcs.edu
Or
Dixie Hayes, Program Coordinator / Lead Instructor, NARA
dixie.hayes@kctcs.edu