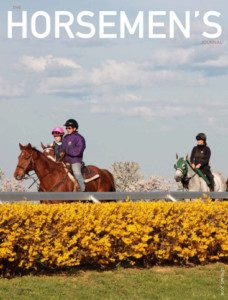 The interactive, electronic version of The Horsemen's Journal's Spring 2018 issue is now available online. It is an enhanced version of our Winter issue, which is currently being mailed. To view it, click here.
Features in the issue include:
Big Meeting in the Big Easy
Topics abound in New Orleans as horsemen gather to network and learn
Reimagining Equine Imaging
New scanning technology is opening the door for advancements in horse health
Much More Than a Racehorse
A Thoroughbred polo pony teaches his human owner how much horses can do after leaving the racetrack
Don't Bring Down the Good Guys
Why the suspension of trainer Ron Ellis makes no sense for racing
Rational Reasoning on Ractopamine
Kentucky regulators reach appropriate responses to inconsequential trace-level environmental substance identifications
Much more than a PDF, the interactive electronic edition of The Horsemen's Journal includes the ability to save, print, email, or share content on social media sites such as Facebook and Twitter. Please enjoy this exciting offering from the National HBPA and share it with anyone you think might enjoy it.
All hyperlinks/URLs and email addresses in the electronic edition are working, clickable links. So be sure to click on some of them – especially those in the advertisements to get more information on the great products and services being offered by the companies supporting your horsemen's organization.