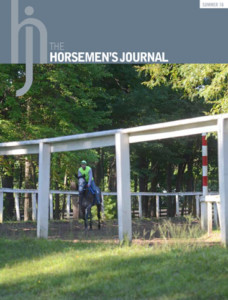 The interactive, electronic version of The Horsemen's Journal's Summer 2016 issue is now available online. It is an enhanced version of our Summer issue, which is currently being mailed. To view it, click here.
Features in the issue include:
*SPEAKING FOR HORSEMEN ON CAPITOL HILL
An update on the Thoroughbred Horseracing Integrity Act of 2015 from the National HBPA's CEO
*XYLAZINE: REDISTRIBUTION OF REPUTATION
How a meeting in Baltimore still affects medication regulation years later
*COVERING YOUR ASSETS
How equine insurance works and whether it's right for you
Much more than a PDF, the interactive electronic edition of The Horsemen's Journal includes the ability to save, print, email, or share content on social media sites such as Facebook and Twitter. Please enjoy this exciting offering from the National HBPA and share it with anyone you think might enjoy it.
All hyperlinks/URLs and email addresses in the electronic edition are working, clickable links. So be sure to click on some of them – especially those in the advertisements to get more information on the great products and services being offered by the companies supporting your horsemen's organization.