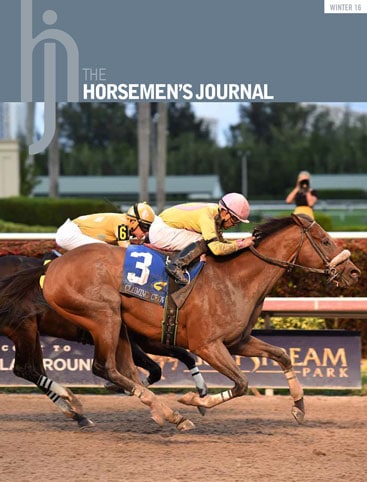 The interactive, electronic version of The Horsemen's Journal's Winter 2016 issue is now available online. It is an enhanced version of our Fall issue, which is currently being mailed. To view it, click here.
Features in the issue include:

ALL GROWN UP
The 18th running of the Claiming Crown proves how far the event has come

THE (HORSE) POWER OF SOCIAL MEDIA
Marketing and promotion do not have to be dirty
words to horsemen

HONORING THE UNHERALDED HORSEMEN
The first Thoroughbred Industry Employee Awards
in America gets off to a great start

THE LOWDOWN ON OUT-OF-COMPETITION TESTING
What the RMTC isn't telling us about its proposed
regulations

Much more than a PDF, the interactive electronic edition of The Horsemen's Journal includes the ability to save, print, email, or share content on social media sites such as Facebook and Twitter. Please enjoy this exciting offering from the National HBPA and share it with anyone you think might enjoy it.
All hyperlinks/URLs and email addresses in the electronic edition are working, clickable links. So be sure to click on some of them – especially those in the advertisements to get more information on the great products and services being offered by the companies supporting your horsemen's organization.