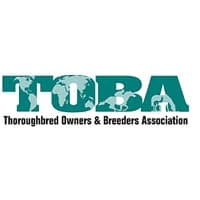 The Thoroughbred Owners and Breeders Association's 34th Annual National Awards Dinner was held at Fasig-Tipton in Lexington, Ky. on Saturday, September 7. Seth Klarman of Klaravich Stables was named TOBA's National Owner of the Year, and John D. Gunther was named the National Breeder of the Year. Thomas and Lori Fackler of Best A Luck Farm LLC was named National Small Breeder of the Year and Stage Magic was honored with the National Broodmare of the Year title.
The National Awards Dinner, hosted by Reed Ringler of Fasig-Tipton, also honored the achievements of Thoroughbred owners in the four major North American racing regions and breeders in 22 states and Canada.
Aztec Sense, who won the 2018 Claiming Crown Jewel , was honored with Claiming Crown Horse of the Year, presented by the National HBPA.
James E. 'Ted' Bassett was honored with the Industry Service Award, awarded to a person or entity who has made exceptional contributions to the industry.
WinStar Farm, China Horse Club, Head of Plains Partners and Starlight Racing received the first Partnership of the Year award.
The Rood & Riddle Sport Horse of the Year went to Archie Rocks, owned by Maya Simmons. This award was presented to the owner of the ex-Thoroughbred that has accumulated the most points in competition, as tracked by the United States Equestrian Federation.
In addition, Wayne and Susie Chatfield-Taylor received the Robert N. Clay Award. In partnership with the Equine Land Conservation Resource, this award recognizes a member of the Thoroughbred community who has made an outstanding contribution to preserving land for equine use.
The State Breeders of the Year were honored at an awards luncheon at Godolphin on Friday, September 6.
A complete list of winners is as follows:
Finalists for Owner of the Year:
Hronis Racing
Juddmonte Farms
Klaravich Stables
Rockingham Ranch
Peter M. Brant
Owner of the Year:
Seth Klarman, Klaravich Stables
State Breeders of the Year:
Arkansas: Bill McDowell
California: Premier Thoroughbreds
Canada: Cam Ziprick and Arnason Farms
Florida: Ocala Stud
Indiana: Michael E. and Penny S. Lauer
Iowa: Allen Poindexter
Kansas: Jerry Johnson
Kentucky: Godolphin
Louisiana: Bill and Al Ulwelling
Maryland: Richard Golden
Massachusetts: George Brown (posthumously)
Minnesota: Joel and Kris Zamzow
New Jersey: Sam Fieramosca
New Mexico: R.D. Hubbard
New York: Chester and Mary Broman
North Carolina: Dr. Frank Batten
Ohio: Steve DeMaiolo
Oregon: Paul Hagemann
Pennsylvania co-breeder: Elizabeth Moran
Pennsylvania co-breeder: Thomas and Lori Fackler
South Carolina: Franklin Smith Sr.
Texas: William S. Farish
Virginia: William M. Backer Trust
Washington: Delores Christianson
National Breeder of the Year:
John D. Gunther
National Small Breeder of the Year:
Thomas and Lori Fackler
National Broodmare of the Year:
Stage Magic
Industry Service Award:
James E. 'Ted' Bassett
Partnership of the Year:
WinStar Farm, China Horse Club, Head of Plains Partners, Starlight Racing
Claiming Crown Horse of the Year:
Aztec Sense
Rood & Riddle Thoroughbred Sport Horse of the Year:
Archie Rocks
Robert N. Clay Award:
Wayne and Susie Chatfield-Taylor