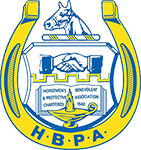 Be it working with tracks or regulators, discussion on Wednesday's first day of the National HBPA Convention centered on partnerships horsemen can forge to improve the sport for everyone.
"By working together, we can improve the sport and generate more revenue," said keynote speaker Corey Johnsen, himself a horse owner and breeder as well as the president and part-owner of Kentucky Downs, the track on the Tennessee border featuring the highest purses in North America for its five-date all-grass meet in September.
"Yeah, there's lots to fix and lots of challenges," he said. "(But) I believe strongly the horsemen and the tracks are truly partners… If you want to approach this like we're adversaries, we're never going to get there. We've all seen states, unfortunately, where racing has been shutdown because groups haven't worked together. We're going to have disagreements. But if you respect each other, communicate and understand each other, we can find common ground. When you find that common ground, you can work together and move things forward. And when you do that, they can't stop us."
While Kentucky horsemen soon began enjoying the benefits of purses enhanced by historical horse racing, Johnsen noted that the horsemen also agreed to loan back part of their cut that first year so Kentucky Downs could invest in the facility. That made spending millions of dollars an easier sell, he said. "I was able to go to my partners and say, 'Look, the horsemen believe in this.'"
The Horsemen's Benevolent & Protective Association, which has consolidated from two conventions a year to one, is holding panel discussions and meetings at the South Point Hotel & Casino through Friday, with the national board convening Saturday.
Johnsen on a variety of subjects
Johnsen offered a "Nobody asked me but …." list that including working toward standards so horse owners don't have to jump through so many hoops for licensing and to get paid purse money from tracks in different states.
"I'm sitting on a $46 check that I've got to get a notary to send in my request to get my money in one state," he said. "… The licensing piece of it, every state has different interpretations of a partnership. If we see an issue or a problem, let's put together a group of people and let's see if there are some best practices we can all utilize. Let's use a TRA (Thoroughbred Racing Associations) and HBPA-type committee to maybe look at horsemen's bookkeepers and what we can do to tweak this. Because it's almost there and could get better."
Johnsen also pushed for more manned surveillance at racetracks.
"I didn't have that much experience with surveillance prior to having a gaming facility at Kentucky Downs," he said in reference to Historical Horse Racing, the innovative parimutuel technology that provides players with an experience similar to slots machines. "But I am telling you, it is one of the greatest management/security tools you can have. Frankly, surveillance does not lie. I believe every shedrow in America should have surveillance for your benefit… I believe everybody in this room wants to play by the rules and have a level playing field. Medication and testing is critically important. Having investigatory procedure is critically important. Having penalties that are fair are important. But if you leave out surveillance, you can't really get there. And if someone is monkeying-around with one of your horses, and he shows up on surveillance, all of a sudden you've got a defense."
Johnsen termed it a "touch disturbing" that "some tracks don't spend the marketing dollars they should." He said if resources are lacking, the deficit can be made up with volunteers from the horse-racing business, for example, doing morning workout shows for the public or being "ambassadors" to mingle with groups attending the races.
"With racetracks, it's not so much that they can't afford it, but they can't get the people to do it who are knowledgeable," he said. "So if you have a group that you can train, to talk to people about how to make a win, place, show or what an exacta bet is, that is invaluable."
Johnsen said innovation must be embraced to increase revenues. Besides historical horse racing, he mentioned EquiLottery, which is striving to tie state lotteries into horse racing as a way to grow the pie for both, and Betfair's exchange wagering.
"You'll notice I did not mention gaming or slots or casinos," he said. "That's nothing against gaming states that utilize those. In the competitive situation, I understand that's important. But historical horse racing will work, if you want to compete against electronic gaming, slots machines. Just as important, it's our product. It's parimutuel wagering on historical horse racing. It's very difficult for them to take that away. But when you talk about casino gaming, virtually every state has come in and changed its formula to the detriment of horse racing, or they've changed the competitive situation to the detriment of horse racing."
Case studies of tracks working with horsemen
Johnsen was on a later panel titled "Horsemen's Relations: Building Positive Momentum Working Together" that also featured Canterbury Park co-owner Randy Sampson and Mike Rogers, president of The Stronach Group's Racing and Gaming Division. While those men's tracks represent success stories, the panel moderator was Frank Petramalo, executive director and general counsel for the Virginia HBPA. Virginia currently has no Thoroughbred flat racing after Colonial Downs shut down three years ago when the horsemen wouldn't agree to run only six days.
After Canterbury was closed for a year, Sampson led a group of horse owners and breeders who bought the Minnesota track. "The first thing we did was sit down with the HBPA and say, 'Hey, we're all in this together. For us to make this leap, there has to be some compromise, some ways we work together,'" he said.
Sampson said horsemen should work with their track on legislation and regulatory issues, marketing and backside spending. He said tracks are not encouraged to spend money on marketing ventures to drive increased handle and capital improvement when they put up all the money but then split resulting revenue.
"We've done promotions with our horsemen and say, 'If we each put up $500 and can turn that $1,000 into $1,500, it's a winner for everybody," he said. "… But in general, the marketing funding is not set up in a way to encourage tracks to spend money because they only get half of whatever the upside is."
Sampson said Canterbury was able to add stalls, install an equine swimming pool and improve its training track because the horsemen, represented by the Minnesota HBPA, put up part of the money.
"Horsemen can say, 'That's not our responsibility. We're not going to contribute.' And that's generally the model. I would ask you, 'How is that working out for you?" Sampson said. "… One way of addressing that, if you're able to get Corey's historical horse racing or some other form of increased racing revenue, don't have it a two-way split between purses and track revenue. Have a three-way split, carve out an infrastructure piece of that."
Petramalo said the Virginia HBPA followed much of Sampson's blueprint but that another critical component is if racetrack ownership and management possess a passion for horse racing. "That's what we were missing in Virginia," he said.
Rogers said Gulfstream Park's relationship with its horsemen helped it prevail in a heated battle over summer racing dates with Churchill Downs Inc., owner of what was then known as Calder. He said those dates are now held at Gulfstream Park and attracting two or three times as much betting.
"Truly we believe a healthy purse account is beneficial for us," Rogers said. "We want to make running live racing profitable. Generally I find the (major) priorities for horsemen's groups are purses and race days. If race days are profitable and we can generate purses, then clearly a lot of other pieces are easy to fit in."
ARCI's Martin presents model toward uniformity
Ed Martin, president and CEO of the Association of Racing Commissioners International, gave the general findings from 28 focus groups that attracted about 1,000 attendees and an online survey with a couple of thousand respondents. The goal was to see where there might be unity in what has become a divided industry. Of the survey, about 40 percent identified themselves as horse owners or breeders, with 19 percent saying they were bettors. Those connected to Thoroughbred racing comprised the biggest percentage of survey participants at 54, with 34 percent in Standardbred racing and 12 working with Quarter Horses.
Martin said there is tremendous support for breed-specific interstate compacts that would pave the way for uniformity of regulations by first doing it regionally.
"A lot of people said, 'Oh those regulators, they're never going to give up their power, their authority. They want to be power-mongers and make the rules in their state,'" he said. "I think that's a misread of the regulatory community. I think they're open to a concept where they make certain policies collectively in an interstate compact. So at the end of the day, when that compact decides what the policy is, that becomes the policy in all of those states that are part of it. That's an opportunity."
Martin said the model could get traction through regional compacts that other states could join later. "You could have a policy-formation council, which could be a partnership between the horsemen's groups, the racetracks and the regulatory jurisdictions in those states," he said. "… The horsemen, the tracks and the regulators would develop what the bylaws are to determine how the thing would work."
Martin said under his model, each state would have one representative apiece from its horsemen's association, racetracks and regulatory authority.
"Everybody would be at the table," he said. "…. When they vote, that now is the policy in all the member states, on the same day, taking effect in the same way. This is a way to solve the problem of lack of uniformity of rules. But it could become a way to solve other problems. The compact could become whatever the partnership wants."
Martin said that the regulators have agreed to "abide by what the compact decides," giving up a right to opt out if unhappy with a component. "That's a huge concession," he said.
Thoroughbred aftercare as business strategy
After a welcome by National HBPA president Leroy Gessmann and CEO Eric Hamelback, the convention kicked off with a panel on the Thoroughbred Aftercare Alliance entitled "The TAA: Protecting Your Investment in Retirement." Prominent owner-breeder Madeline Auerbach, an aftercare pioneer in California and a member of the TAA's executive committee, was especially blunt in why aftercare should be part of every horseman's business plan.
"If we don't take care of our own industry, we will get the helping hand — and I'm very sarcastic — of the government," Auerbach said. "If the government has to step in and do the things that we should be doing ourselves, it will not be done with the same gentle and loving hand. It will not be as cost effective. A lot of us in this industry work on a very fine margin. We don't have room for a lot of expenditures that are not essential. What we're trying to tell you today is this is not a pleasant diversion. This is a necessity for all of us.
"… This is as important as paying your taxes and insurance. This is part of our insurance that the industry survives."
Since its 2012 inception, the TAA has pulled a fragmented industry together for the common good by accrediting organizations involved in the retirement, retraining and adoption of retired racehorses. As importantly, the TAA also raises and provides funding for those organizations meeting its rigorous accreditation standards, now up to 64 throughout North America.
Joell Dunlap, founder of Square Peg Foundation in northern California that uses cast-off Thoroughbreds to work with developmentally challenged children, said TAA funding has allowed her organization to increase from helping 30 to 60 families with autistic children. She said story-telling is an incredibly powerful tool to changing perception of the racing industry, with aftercare connecting horses and humans providing amazing material.
"Here's the deal: From the first time a soldier said to his mounted regiment, 'Last one to the top of the hill is a rotten egg,' there was a horse race," Dunlap said. "More than the horse race, after that there was a story. And the story lasted a whole lot longer than the horse race.
"Racing is going to thrive, or racing is going to struggle, because of the stories. The public perception of racing has suffered because we forgot to tell (the public) these great stories. If you don't believe me, go ahead and Google Ferdinand. The first two (topics), you're not going to see Bill Shoemaker's amazing ride in the 1986 Derby. You're going to get a slaughter story. Ferdinand, amazing animal — and we get a slaughter story. That's a failure to tell these great stories.
"…. These are stories that change the perception of racing. These are the stories that make the public trust us again…. Investing in aftercare isn't just the right thing to do, it's the best investment."
Trainer Rick Hiles, president of the Kentucky HBPA and a vice president of the National HBPA, discussed the venture created among the horsemen, Churchill Downs and Keeneland and the TAA for a voluntary program that makes it convenient for horse owners to donate $5 for each starter, with Churchill and Keeneland matching the amount. He said that has raised $170,000 for the TAA the past two years.
"I would ask each one of you go back and make a presentation to your racetracks and your horsemen's group and say, 'Look, we want to be part of this,'" Hiles said. "If you can't give $5, give $3. But get involved."
Concluded Stacie Clark Rogers, the consultant overseeing TAA operations: "If you like the horse, do it. If you like the business, do it. If you don't like the business but like to make money in this business, you should do it."
Other sessions on Wednesday's convention program included updates on the  American Horse Council's UnWanted Horse Coalition; EquiLottery; Betfair's exchange wagering that allows players to offer and accept fixed prices on the outcome of a race, similar to the trading of equities and commodities; and Equine Equipment's program offering discounts for the horse world on top-brand farm equipment and mowers.
Judy Wagner, ARCI's outgoing chair and the first horseplayer representative on the board of the National Thoroughbred Racing Association, stressed the importance of going to ntra.com/comment to send an electronic message to the Treasury Department in favor of modernized regulations regarding how federal tax is withheld or reported on big payoffs.
By Jennie Rees