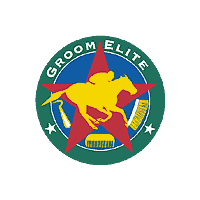 The Elite Program Inc., through its Groom Elite programming, is excited to announce a unique opportunity for owners of racehorses to receive the same instruction that has been taught to over 3,000 grooms, inmates and others since 2001. Owners Groom Elite Session I will be conducted at Santa Anita Park on July 10-14 followed by Session II two months later on September 25-29.
At the request of a group of racehorse owners in Southern California, Dr. C. Reid McLellan, a nationally recognized equine educator, will present the materials taught in Basic Grooming 099, Groom Elite 101 and Groom Elite 201 during two intense weeks of 6-hour per day instruction. The Groom Elite proven format of lecture and hands-on will be the mode of instruction. Owners will learn "best-practices" for taking care of their racehorses with the opportunity to see where they can make decisions that can improve their horse's chances of winning races.
Sessions will run from 8 am to 4 pm each day with a 90-minute lunch break. During session I, McLellan will present "Behavior and Grooming," the foundation and underlying philosophy of working safely with horses while increasing confidence in both human and horses.
"Confident horses win races," McLellan says. Longtime Santa Anita veterinarian, Helmuth Von Bluecher, DVM, participated in McLellan's instructor training at Isothermal College (Tryon, NC) and teaches in ICC's ongoing Groom Elite program. Dr. Von Bluecher was impressed with the first two lectures in Basic Grooming 099.
"Dr. Mac presented information about how horses react the way they do. Experienced grooms and horse people already use some of those principles without understanding the background. Understanding and applying those principles can help a horse get comfortable with its groom faster. I learned new information, and. I think any horseman would benefit from attending this program from the beginning."
In addition to Horse Behavior, Session I will present the first two-thirds of Groom Elite 101 including Height, Weight and Body Condition Score; Health Check; Basic Conformation, Leg Anatomy & Exam; Hay for horses; Horse Digestive System, Feeding Racehorses; and Introduction to Bandaging.
Session II will return to Santa Anita on September 25-29 and will continue the Groom Elite 101 materials with more Bandaging, Tacking, The Horse's Foot, and Test Barn. Groom Elite 201 (Advanced Grooming) includes advanced discussions of Skeleton, Muscles, Injuries, Therapy, Cooling out Hot Horses, Tying up and Non-Sweaters. Attendees of Session I will have priority for one of 20 limited seats in Session II.
Liane Hart, racehorse breeder and owner, Groom Elite 101/201 graduate (Indiana), Trainer Exam Prep Class graduate (Lexington) and now a Groom Elite Board member, passed her Kentucky assistant trainer's licensing exam June 1. Liane wrote Dr. Mac, "Thank you for EVERYTHING that you have done for me over the years. I couldn't have done this without you and the Groom Elite classes. You covered basically everything that was on the test".
Tuition for each week-long session is $599. Session I registration is open now and participants that sign up before June 23 pay an EARLY BIRD special tuition of $499. Space will be limited to 20 spots to allow for discussion and hands-on opportunities. Attendees of Session I will have priority for a seat in Session II and will be able to sign up for Session II at Session I before registration is open to the public.
A waiting list will be established if either session is over subscribed. Those interested are encouraged to go to www.groomelite.com and sign up. Anyone without internet access is invited to call 859-252-8648 (Race for Education) or Dr. McLellan at 859-321-4377 and sign up over the phone.
Don't forget the upcoming Trainers' Exam Prep Classes in Lexington, KY on June 28-30, and Remington Park on August 16-18. Links to information about those classes also available at www.groomelite.com.