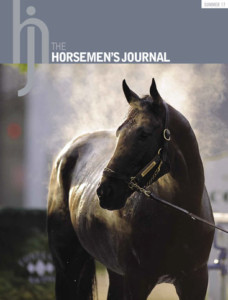 The interactive, electronic version of The Horsemen's Journal's Summer 2017 issue is now available online. It is an enhanced version of our Summer issue, which is currently being mailed. To view it, click here.
Features in the issue include:
OLD FRIENDS' MOST CHARMING RETIREE
Silver Charm is one of several Triple Crown race winners enjoying the good life in retirement
NO LASIX RACING: GOOD IDEA OR FAILED EXPERIMENT?
A closer look at the concept and what it means for the safety of horses and riders
SMART TECHNOLOGY TRACKERS
Remote monitoring devices are set to have a big impact on the horse industry
ACUPRESSURE FOR HORSES
Noninvasive Chinese therapy uses acupuncture points to ease pain, promote well-being
THE LITTLE-KNOWN FACTS ABOUT COMMISSION COMPLAINT RESOLUTION
A primer and a plan for change for horsemen
Much more than a PDF, the interactive electronic edition of The Horsemen's Journal includes the ability to save, print, email, or share content on social media sites such as Facebook and Twitter. Please enjoy this exciting offering from the National HBPA and share it with anyone you think might enjoy it.
All hyperlinks/URLs and email addresses in the electronic edition are working, clickable links. So be sure to click on some of them – especially those in the advertisements to get more information on the great products and services being offered by the companies supporting your horsemen's organization.