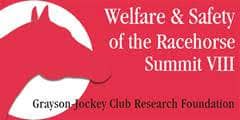 The eighth Welfare and Safety of the Racehorse Summit, scheduled to be held on Wednesday, June 27, will be available via livestream at grayson-jockeyclub.org/WelfareSafety/includes/2018Wss_agenda.asp. A link to the livestream will also be available at jockeyclub.com.
The summit is underwritten and coordinated by The Jockey Club and Grayson-Jockey Club Research Foundation and hosted by the Keeneland Association. It will be held in the Keeneland sales pavilion from 8 a.m. to 5 p.m. and is free and open to the public. Those interesting in attending are encouraged to register at grayson-jockeyclub.org/WelfareSafety.
This year's summit will feature discussions on topics including equine injury statistics, jockey safety, and the integrity of racing. The full agenda with a list of speakers is available at grayson-jockeyclub.org/WelfareSafety/includes/2018Wss_agenda.asp.
Those who have questions for the speakers before or during the summit are encouraged to email horsesummit@jockeyclub.com or tweet using #HorseSummit.
Among the major accomplishments that have evolved from the previous seven summits are the Equine Injury Database; the Jockey Injury Database; the Racing Surfaces Testing Laboratory, which provides science-based testing of racing surfaces to enhance safety for horse and rider; a uniform trainer test and study guide; the racing surfaces white paper and publication of educational bulletins for track maintenance; the publication of stallion durability statistics; the Hoof: Inside and Out DVD, available in English and Spanish; modifications to model rules that enhance the protocol for horses working off of the veterinarian's list; and the movement by state racing commissions to create regulations that void the claim of horses suffering fatalities during a race.
(from The Jockey Club news release)