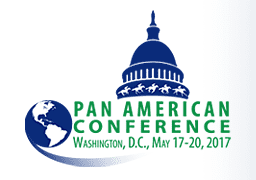 Images, presentations and videos from the Pan American Conference and the International Forum for the Aftercare of Racehorses (IFAR) are available online.
To view the Pan Am materials, visit panamdc2017.com and click the Resources tab.
To view the IFAR materials, visit internationalracehorseaftercare.com and click Resources tab and then click the link to the presentations.
The IFAR conference, held May 18 and 19, 2017, coincided with the Pan Am Conference, which was held May 17 – 20 in Washington, D.C., and concluded with a trip to the 142nd Preakness Stakes. IFAR is an independent forum that recognizes geographical and industry differences among racing countries and is designed to enhance Thoroughbred aftercare worldwide.
The Pan Am Conference, hosted by The Jockey Club and the Latin American Racing Channel, was a mix of business and social events, including the Preakness Stakes Celebration presented by the Stronach Group and the Gala Dinner of the Pan American Conference presented by Longines, featuring the Longines Ladies Awards, for a global audience surrounding the Thoroughbred industry. The event was attended by more than 400 representatives from 25 countries.