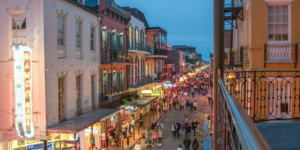 Laissez les bons temps rouler!
The National HBPA will hold its 2018 convention at the Astor Crowne Plaza Hotel New Orleans at the corner of Canal and Bourbon streets from Tuesday, March 13, through Saturday, March 17. Registration and hotel reservations are now open! A tentative agenda and complete information is available at www.hbpa.org/convention and the highlights are included below.
Convention Registration
Online registration is now open. The member registration fee is $350 with a $150 fee for a spouse/significant other. The convention registration deadline is March 5. Registration fees can be paid online with a credit card, or new this year, you can register online and request to be invoiced if you prefer to pay by check. You can also download and mail a registration form.
Hotel Reservations
Please click here and book your hotel room soon. To guarantee the group rate, please book by Thursday, February 15.
Rates
Single/Double: $184
Triple: $204
Quad: $224
To book by phone, call 877-408-9661 and ask for the "NHBPA" rate.
Hotel Location
Astor Crowne Plaza Hotel New Orleans
739 Canal Street
New Orleans, Louisiana 70131
(504) 962-0500 – Hotel
Website: www.astorneworleans.com
Sponsorships
If you are interested in being a sponsor during our annual convention, please contact Tammy Wright with TRAO (Oklahoma HBPA) at twright@traoracing.com about all options available for sponsorship and affiliate recognition.
**Just a note **
If your travel plans include driving to the hotel, please note that the daily parking rate is $46. The NHBPA will coordinate transportation to Fair Grounds Race Course and all French Quarter plans will be accessible via trolley, within walking distance, or van.
Airport shuttle available for approximately $24 one-way.